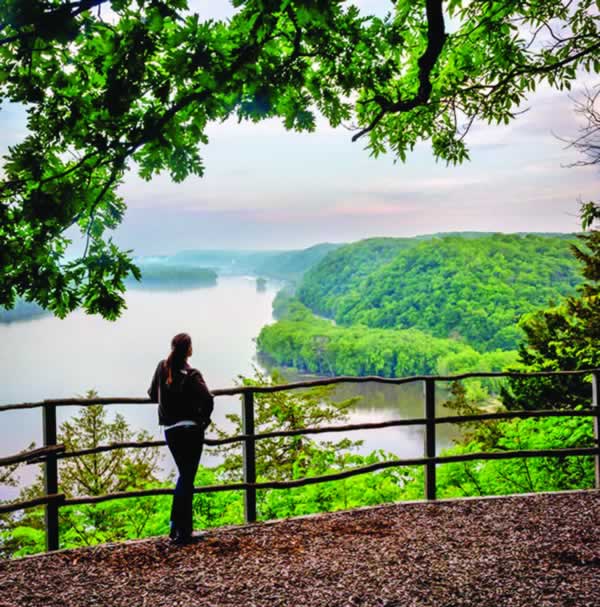 By Charlene Corson Selbee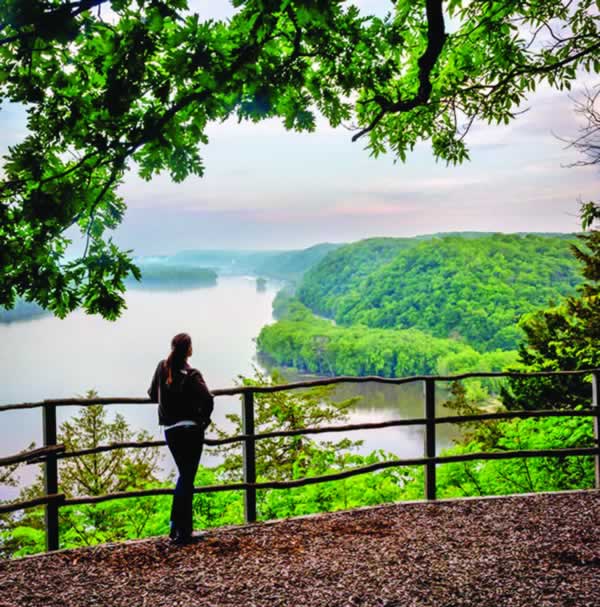 It is not difficult to find a hiking trail in picturesque Bluff Country, as many communities proudly claim at least one hiking trail.
Bluff Country terrain offers trails for all ages and skill levels. The landscape includes miles of rolling hills, scenic overlooks, woods, rivers, rocky bluffs, farms, charming towns, wildlife, and birds.
In Preston, Minn., check out Isinours Junction, which connects with the 18-mile-long Harmony-Preston Valley Trail. There are two interpretive signs on the trail. The first one features the "lost depot," The other sign highlights the historic "turntable."
Just 20 minutes south of Rochester, Minn., is Chatfield. Chatfield is located on the Root River Trail and proudly boasts the Lost Creek Hiking Trail. The 6.5-mile trail runs in one direction alongside private land, with parking at Groen Park in Chatfield. The trail is maintained by the Bluff Country Hiking Club, which describes the trail as a natural surface trail. This technical trail features steep climbs and blufftop vistas, several creek crossings, and challenging terrain. The trail is open to the public year-round except during firearms season in November. Brochures are available at either trailhead or in the city park at the visitor's information center. In February, the hiking club hosts a Candlelight Snowshoe Hike. Snowshoes are available from the club.
Eagle Bluff Environmental Learning Center outside of Lanesboro, Minn., has over nine miles of trails open to the public seven days a week, dawn till dust! Eagle Bluff Advancement Director Joe Goetzke shares, "There are many species of birds for viewing on our campus, including bald eagle, indigo bunting, tufted titmouse, pileated woodpecker, scarlet tanager, American redstart, and more! Winter fun on the trails includes snowshoeing and cross-country skiing. Goetzke summarizes, "Enjoy incredible views and breathtaking beauty from our scenic overlooks."
Alltrails.com shares that Maglessen Bluff Park is a 1.5-mile lightly trafficked loop trail in Rushford, Minn., features a great forest setting and is suitable for all skill levels. The trail is primarily used for hiking, walking, running, and nature trails. Dogs are allowed to use this trail but must be kept on a leash.
The Norwegian Ridge Birding & Nature Trails, located on the east side of Spring Grove, Minn., is a combination of three mowed trails (1-, 2-, or 3.5-mile option) that winds over bridges and through meadows, deciduous forests, agricultural lands and around ponds. The trail is open yearlong for hiking nine months of the year and snowshoeing the rest of the year. Parking is available at the grocery store near the trailhead.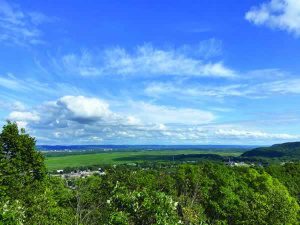 Apple Blossom Overlook Park is in Dakota, Minn. According to the La Crescent Chamber of Commerce, it is an easy 7-minute drive up to the top of the Scenic Apple Blossom Drive (Elm St.). The Chamber of Commerce director shared that those visitors will be treated to sweeping views of the main channel of the Mississippi River and the Driftless region. A 1.5-mile looping trail with oak-hickory-birch woods and goat prairies provides a variety of scenery for hiking and snowshoeing. The wide trails are suitable for all abilities.
Executive Director Julie Hatlem, La Crescent Area Chamber of Commerce & Tourism, recommends visitors check out Vetsch Park, "A gem of a park." The park is in La Crescent city limits and offers a variety of looping trails and terrain with access to the top of the bluff.
Hatlem suggested Eagles Bluff Park. The La Crescent park offers a variety of wooded hiking trails that take you up to the top of the bluff.
"Great River Bluff State Park located in Winona, Minn., sits high on the bluffs overlooking the Mississippi River; scenic overlooks are easily reached by walking trails and offer a chance to get away in the quiet bluff country. Oak-hickory woods, pine plantations, and goat prairies provide excellent birding, scenery, hiking on over six miles of trails and nine miles of mostly intermediate level cross-country ski trails," shared Hatlem.
Are you looking for a leisurely stroll? Como Falls is located behind the fire station in Hokah, Minn.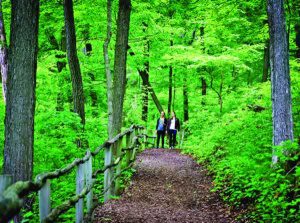 Recommended Wisconsin hiking trails in the Prairie du Chien, Wis., area include Lawler Park and Nelson Dewey State Park. In addition to offering a variety of terrain, scenic overlooks, birds, and wildlife, both parks share historical stories of the area. Lawler Park offers a river walk with interpretive markers detailing the many layers of Prairie du Chien history. The Nelson Dewey State Park is part of the original estate of Wisconsin's first governor, Nelson Dewey.
La Riviere Park, a 300-acre nature park located in SE Prairie du Chien, is managed for its natural beauty, wild plants, and wildlife. There are six miles of nature and hiking trails. Winter activity includes snowshoeing, cross-country skiing, and sledding. Wildlife abounds in this nature park and is a bird watchers' haven. Prairie du Chien has been a Wisconsin Bird City since 2013.
The Prairie du Chien area highlights include the one-mile Sturgeon Slough Hiking Trail. The trail is accessed from the rest stop on Hwy. 18 between Prairie du Chien and Marquette, Iowa.
Yellow River State Forest, near Harpers Ferry, Iowa, and Effigy Mounds National Monument, offers more than 50 miles of multi-purpose trails for all skill levels. Hikers traverse through mature forests.
Visitors and residents flock to Pikes Peak State Park, McGregor, Iowa, Mt. Hosmer Lookout and Park, Lansing, Iowa, and Effigy Mounds National Monument, Harpers Ferry, Iowa, to take in the picturesque vistas of the mighty Mississippi River. Have your camera ready to snap pictures of the eagles soaring in the sky above the bluffs. Hiking trails are available at all three locations.
When in Northeast Iowa, visit Decorah, a haven for walkers. Check out the 11-mile Trout Run Trail, Prairie and Butterfly Garden, Dunning Springs, Phelps Park, Palisades Park, Twin Springs, and the Decorah Fish Hatchery. Dogs on leash are welcome.
Spend a quiet day at Cardinal Marsh, Wildlife Management Area, minutes from Ridgeway, Iowa, taking photos of butterflies, dragonflies, birds, and wildlife.
Now, head outside and enjoy Bluff Country!