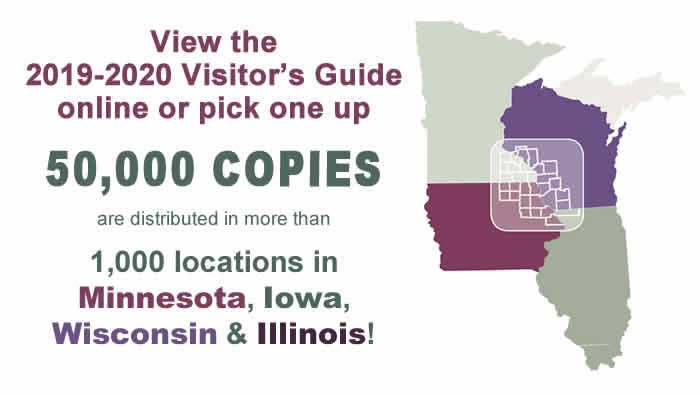 If you are not located near any of these locations, you can subscribe to the Visit Bluff Country Magazine below.
You may also request to become a distribution location.
MINNESOTA Distribution Locations
Minnesota Area Visitor Centers
Albert Lea Travel Information Center
Beaver Creek Travel Information Center
Caledonia Chamber of Commerce
Chatfield Tourist Information Center
City of Fountain
City of LeRoy
City of Mabel
City of Spring Grove
City of St. Charles
Fisher's Landing Travel Information Center
Grand Portage Travel Information Center
Harmony Area Chamber of Commerce
Houston Area Chamber of Commerce
Lanesboro Area Chamber of Commerce
Moorhead Travel Information Center
Preston Area Chamber of Commerce
Preston Area Tourism
Rushford Area Chamber of Commerce
Southeastern MN Historic Bluff Country
Convention & Visitors Bureau
Spring Valley Chamber of Commerce
St. Cloud Travel Information Center
St. Croix Travel Information Center
Stewartville Area Chamber of Commerce
Thompson Hill Travel Information Center
Visit Winona – Visitor Center
Wabasha Chamber of Commerce
Winona Area Chamber of Commerce
Worthington Travel Information Center
Wykoff Tourist Information Center
Adams
Bing's Liquor
Bubbles Café
Cedar River Country Club
Heimer Foods
Shell Station & Adams Liquor Store
United Farmers State Bank
Austin
Austin Convention & Visitors Bureau
Byron
Kwik Trip
Market Place Grocery Store
Scrub Your Duds
Caledonia
Betsy's Bed & Breakfast
Bluff & Valley Hot Air Balloon Rally
Buckboard Antiques
Caledonia Lumber
Caledonia True Value Hardware
Country Charm Crafts
Crest Inn
Danielson Insurance Agency
Ellingson Motors
Elsie's Restaurant & Bar
Four Seasons Community Center
Good Times Restaurant & Bar
Houston County Historical Society Museum
Keller-Williams Real Estate
Klug Insurance Agency
Kwik Trip
Mary Ann – Florist
Mayo Clinic Health System – Caledonia Clinic
Meyer Brothers Inc.
Meyer Garden
Quillin's Grocery
Redwood Café
Smooth Toes
Sno Pac Organic Foods
The Farmhouse Eatery & Gifts
Winnebago Springs
Wired Rooster
Canton
Amish Valley Cabins
Canton Day Off Celebration
Canton Lumber Yard Antiques
First SE Bank
Mitson House Museum
Old Crow Antiques
Sarah's Diner
ZZ Tap
Chatfield
52 Bottle Shop
Bick N Berry
Big Girl Stickers
Cabin Coffee
Cenex
Chatfield City Hall
Dairy Queen
F&M Community Bank
Hong Kong
JW Silver Grille
Magnum Sports
Meraki Salon
NAPA – Chatfield Parts House
Oakenwald Terrace
Pope & Young
Root River State Bank
Shari's Sports Saloon
Sunshine Foods
Threads Custom Apparel
Tim Danielson – ELCOR
Todd Hadoff – Remax
Verizon Wireless
Dover
The Last Round
The Neighbors Pub
The Road Trip Bar & Grill
Elgin
Cenex C-Store
Elgin Liquor Store
Jim's Family Salon
Out of Bounds
Tailgaters
Valley Liquor
Wescotts Orchard
Eyota
Buddy's Liquor
Kwik Trip
Fountain
Beaver Bottom Saloon
Drury Furniture
Fountain City Hall
Fillmore County History Center
First State Bank of Fountain
Huey's Liquor
Karst Brewing Co.
Village Square of Fountain
Harmony
Amish Tours of Harmony
Asahi Loft
Bluff Country Computers
BReaKeRs
Country Lodge Inn
Countryside Furniture
Estelle's Eatery & Bar
First SE Bank of Harmony
Hammell Equipment
Harmony Area Chamber of Commerce
Harmony Custom Kitchens
Harmony Foods
Harmony Gardens & Floral
Harmony House Restaurant
Harmony Telephone Company
Hershberger Woven Shag Rugs
Ironside Trailer Sales & Service
Jem Movie Theatre
Kingsley Mercantile
Kwik Trip
Looking Glass Prairie Furniture
New Generations of Harmony
Niagara Cave
Oak Meadow Meats
On The Crunchy Side
Pam's Liquor
RJ Amish Furniture
ReMax Select Properties/Roxanne Johnson
Solberg Welding
The Falcon's Nest
Torgerson Auto Sales
The Village Depot
The Village School Quilt Shop
Triple M Furniture
Yutzy Custom Kitchens
Houston
Alpine Nursery
Barista's Coffee House
Casey's General Store
City of Houston
International Owl Center
Loken's Sawmill Inn
Houston Food Mart bp
JT's Corner Bar
The Bunk House
Kasson
Baymont Inn & Suites
Erdman's Country Market
Kwik Trip
Kellogg
Lark Toys
SVJ Creative Designs
Lake City
Alaska Lodge
AmericInn
Hok-Si-Lo Campground/Cabins
Kwik Trip (Highway 61 & 63)
Lake City Chamber of Commerce
Lake Pepin Pearl Co.
Port 104 Bar/Restaurant/Bowling
Lanesboro
Bluffscape Amish Tours
Commonweal Theatre Company
Cottage House Inn
Eagle Bluff Environmental Learning Center
Grandma's Inn
Granny's Liquor
Highway 250 Campground
Historic Scanlan House
Home Sweet Home
Lanesboro Arts Center
Lanesboro Area Chamber of Commerce
Lanesboro Food Shop
Little River General Store
Merchants Bank
Mrs. B's Inn
Pedal Pushers Cafe
Riverside on the Root
Root River Outfitters
Root River Rod Co.
Root River Saloon
St. Mane Theatre
Stone Mill Inn & Suites
The Bite
The Black Crow Art Gallery
The Parkway Market
LeRoy
City of LeRoy/Commercial Club
LeRoy Center for the Creative Arts
Main Street Market Place
Travel Lanes & Supper Club
J & B Off Sale Liquor
EDP Renewables/Wind Energy
First State Bank Minnesota
The Treehouse Landscape & Garden Center
Sweets Hotel, Restaurant & Lounge
Harrington Enterprises
Lake Louise State Park
Mabel
Mabel House Hotel
Simple Living Farmer's Market
Village Farm & Home
Mabel BP Convenience Store
Mabel Community Center/City Hall
Split Enz Salon
B's Nest Gifts & Collectibles
BBG's Restaurant
Mabel Liquor Store
Bank of the West
Krazy Kwiltz Fabric Shop
Evangelines Antiques Home Décor
Mabel Flowers & Gifts
John's Yard Art
Steuart Laboratories
Mankato
AAA of Mankato
Mantorville
Casey's General Store
Mazeppa
Cenex C-Store
Millville
Appel's Tire Service
Becklund's C-Store
Minneiska
Langseth Wood Carving
PETERSON
Andor Wenneson Inn
Turned Write
Geneva's Canoe & Tube Rental
Burdey's Café
City of Peterson
Peterson American Legion
Geneva's Hideaway
The Crossings B&B
Plainview
The Woods – Amish Furniture
Cenex C-Store
Bp
Kim's Pizza
Weber & Judd
Kwik Trip (4th Ave. SE)
Preston
The Old Barn Resort
Sally's Hair To Dye For
Root River Hardware Store/NAPA
Pine Tree Apple Orchard
Preston Golf Course
Preston Servicemen's Club
Root River Hardwoods
The Driftless Fly Fishing Company
Trail Head Inn & Suites
Historic Forestville State Park
Maple Springs Campground
Preston Liquor
National Trout Center
Southeast Minnesota Veterans Cemetery
Preston Tourism
Country Trail Inn & Suites
B&B Olympic Bowl
Branding Iron
Casey's General Store
Crestwood Cabins
Preston BP
The Sweet Stop and Sandwich Shoppe
Hoffmann Stables & Tack Shop
Kelly Printing & Signs
Valley View Campground
Blossom Hill orchard & farm
Preston Foods
City of Preston
FIllmore County Journal
Preston Equipment
Reads Landing
Reads Landing Brewing Co.
Red Wing
St. James Hotel
Red Wing Depot (Visitor's Center)
AmericInn
Nichol's Inn and Suites
Best Western
Kwik Trip (Highway 61)
Eppens' Auto
The Staghead
Rochester
Kwik Trip (Century H.S. – NE)
Kwik Trip (NW by Target, Home Depot)
El Carambas Taqueria
Opa! Opa!
Apollo Liquor (Century H.S. – NE)
Apollo Liquor – SE
Asian Pacific Market
St. James Coffee
Pure Rock Studio
Plaza Liquor NW
Quarry Hill Nature Center
Hy-Vee Store (New on W. Circle Dr.)
Staybridge Suites (NW)
Five West
Comfort Inn & Suites (NW)
Sleep Inn (NW)
Kwik Trip (Scott Rd. NW)
Holiday Station (2nd St. SW)
Holiday Inn Express (SW)
Spring Hill Inn & Suites
Sunny Market
Plaza Moreno Mexican Restaurant (Miracle Mile)
Caribou Coffee (Civic Center Dr.)
The Forager Brewery
Kwik Trip
Pappy's Place
Los Dos Amigos
Motel 6 (NW – W. Frontage Rd.)
Wong's Cafe
Charlie's Eatery & Pub
Dunn Brothers Coffee (NW)
Zumbro River Cafe
Silver Lake Foods
Kahler Apache
Kwik Trip (Barclay Square SW)
Holiday Station (7th St. NW)
Galleria Skyway
Hy-Vee Store (SW)
LaQuinta Inn & Suites (Shoppes on Main SW)
Noodles & Company (Shoppes on Main)
Caribou Coffee (Shoppes on Main)
Home 2 Suites by Hilton (SW)
Microtel Inn & Suites (Shoppes on Main SE)
Econo Lodge (S. Broadway)
Kwik Trip (S. Broadway)
Rochester Inn ( S. Broadway)
Best Price Inn (S. Broadway)
Quality Inn & Suites
AAA Rochester Travel Agency
Panera Bread (NW)
Courtyard by Marriot
Quality Inn & Suites
KOA Campground (Rochester/Marion)
Jeff's Little Store (Marion)
Jeff's Corner Store (Marion Rd.)
Casey's General Store (Marion Rd.)
Cub Foods
Eagles Club
BB's Pizzeria
Whistle Binkies (NE location)
Bowlocity
Saigon Far East Oriental Market
Hy-Vee Gas Station (37th Street NW)
Hy-Vee (37th Street NW)
Mister Car Wash
Holiday (37th Street NW)
Cooper Tires (Good Year) (37th Street NW)
Casey's General Store (18th Street NW)
Comfort Inn
Hampton Inn & Suites (North location)
Holiday Station (55th Street NW)
Country Inn & Suites
Towne Place Suites Marriott
Newt's Restaurant (NW)
Caribou Coffee (NW)
Broadway Bar & Pizza
Hy-Vee Gas Station (NW)
Extended Stay America
Microtel Inn & Suites
The Barbershop
Mr. Pizza (North location)
Beetle's Bar & Grill
Glynner's Pub
Silver Lake Foods
Hunan Garden
Hy-Vee (Barlow's Plaza)
Cenex (16th Ave. NW)
GH Guesthouse Inn & Suites
Holiday Inn Express & Suites (SW)
Caribou Coffee (2nd Street SW)
Aspen Inn & Suites
Aspen Select
Super 8 Motel (Fairgrounds)
Canadian Honker Restaurant
Centerstone Plaza Hotel
Sinclair Station (SW location)
DoubleTree Hotel
Mayo Clinic International Concierge Center
Brothers Bar & Grill
Panera Bread (SW)
Dunn Bros. Coffee
Wyndham Garden Hotel
Mr. Pizza (South)
Hampton Inn (South)
Super 8 Motel
Days Inn
Fleet Farm Gas Station
Comfort Suites (SW)
Extended Stay America (SW)
Country Inn & Suites (SW)
Whistle Binkies on the Lake (SW)
Rooster's
Hilton Gardens Inn (Downtown)
Joe's Liquor (2nd St. SW)
Hyvee Liquor (Barlow)
Rochester Athletic Club (NW)
Bruegger's Bagels
Rochester Cycling & Fitness
RUSHFORD/Rushford Village
Rushford Foods
City of Rushford
City of Rushford Village
Rushford Depot Museum
Rushford Peterson Valley Chamber of Commerce
Historic Bluff Country
Rushford Hardware
Hammell Equipment Inc.
First Presbyterian Church
Windswept Inn
Shawnee's Bar & Grill
M&M Lawn & Leisure
Dahl's Auto Works
Loken's Rushford Inn
Labrador Home & Garden
Rushford State Bank
Curt's Place
Brown Tire
Ferndale Country Club
Norsland Lefse
Stumpy's Restaurant & Bar
Pam's Corner
The Creamery/Nordic Lanes
Jessie Street Java
Spring Grove
Footwear by Footskins
Spring Grove Communications
Spring Grove Cinema
Spring Grove Fitness Center
City of Spring Grove
Yah Sure, You Betcha Shoppe
Spring Grove Soda Pop
Doc's Blue Moose Restaurant
Spring Grove Swim Center
Ivy Grove Cafe
Hidden Bluffs Resort
Turquoise Tomato
Bluff Country Artist Gallery
Kwik Trip (Main Street)
Spring Grove Heritage Center
Spring Valley
Comforts of the Past
Spring Valley City Hall
Brenda Sheldon – Property Brokers of MN
Harrington Enterprises
True Value
First State Bank of SE Minnesota
A & W Restaurant
TJ's Liquor
Spring Valley Inn & Suites
Kwik Trip
Ody's Country Meats
Spring Valley BP
Spring Valley Greenhouse
Home Federal
Sunshine Foods
Spring Valley Chevy Buick
Four Daughters
Rock's Bar & Grill
Spring Valley Dental
Spring Valley Bakery
The Pizza Place
St. Charles
DJ Liquor
Lazy D Campground
Mike's Food Center
Kwik Trip
Cabin Coffee Company
Greenway/Cenex/A&W
City of St. Charles
Whitewater Winery
Stewartville
Casey's General Store
Ambassador Liquor
New Hunan
Casey's Genery Store (Northside)
Weber & Judd Pharmacy
Kwik Trip (Downtown)
Kwik Trip (Northtown)
Striker's Bowling & Liquor Store
America's Best Inn
Fareway Foods
First Farmers & Merchants Bank
Wabasha
Wabasha Area Chamber of Commerce
Anderson Gardens
Proud Bridgeside Antiques
Turning Waters Bed, Breakfast & Brewery
The Chockolate Escape
AmericInn Hotel & Suites
Amoco bp
Big River Resort
Kwik Trip
Scheel's Grocery Store
National Eagle Center
Anderson House
Wanamingo
Cenex Convenience Store
Whalan
Cyclin-Inn
City of Whalan
Cedar Valley Resorts & Outfitters
Aroma Pie Shop
WINONA
Kwik Trip (North end of Hwy. 61)
Green Mill
Riverport Inn
The Plaza
Holiday Inn Express & Suites
Windom Park B&B
Polish Cultural Museum
Garvin Heights Vineyard
Winona County History Center
Days Inn
Winona Area Chamber of Commerce
Wenonah Canoe
Visit Winona Visitors Center
MN Marine Art Museum
JR Watkins
The Clothes Shop
Treasures Under Sugar Loaf
Wykoff
Dream Acres Farm
City of Wykoff
Jail House Inn
Shooters
Gateway Inn
Goodies & Gas
Security State Bank
Zumbro Falls
Bluff Valley Campground
Rod's C-Store
Bp on Highway 63
Zumbrota
Casey's General Store (Downtown Location)
Zumbrota Liquors
Hub Food Center
Casey's General Store (Highway 52 Location)
Kwik Trip
Super America
Value Liquor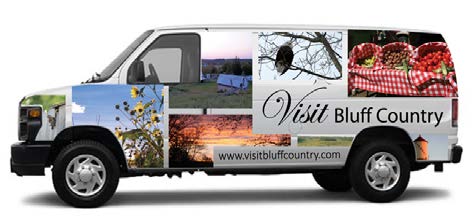 IOWA Distribution Locations
Iowa Area Visitor Centers
Allamakee County
Bellevue Area Chamber of Commerce
Burr Oak
Charles City Chamber of Commerce
Chickasaw County Tourism
Clayton County Development Group
Clermont Chamber of Commerce
Cresco Chamber of Commerce
Decorah Chamber of Commerce/Winneshiek
County Convention & Visitors Bureau
Dyersville Area Chamber of Commerce
Elkader Chamber of Commerce
Fayette County Tourism Center
Fort Atkinson Area Chamber of Commerce
and Visitor Center
Guttenberg Area Chamber of Commerce
Guttenberg Development & Tourism
Howard County Business & Tourism
Lansing Area Chamber of Commerce
Lime Springs City Hall
McGregor-Marquette Chamber of Commerce
Oelwein Chamber and Area Development
Osage Chamber of Commerce
Riceville Area Economic Development
St. Ansgar City Hall
Waukon Chamber of Commerce
Bellevue
Bellevue Area Chamber of Commerce
Burr Oak
Country Café & Country Express
Laura Ingalls Wilder Park & Museum
Calmar
Kwik Star
Charles City
Kwik Star
Sleep Inn
Super 8 Motel
Cedar River Harley Davidson Shop
Floyd County Historical Society Museum
Kwik Star (downtown location)
Charles City Chamber
The Rustic Corner
Casey's General Store
Chester
Travel Plaza
Clermont
Casey's General Store
Clermont History Center
Montauk Historical Site
Cresco
Quilters Garden
Kwik Star
Sue-Z-Q's Dining
Casey's
Cresco Fitness Center
Tin Ceiling Antiques
Super 8 Motel
Alum-Line
Howard County Business & Tourism
Cresco Chamber of Commerce
The Ox & Wren Spirits & Gifts
Furniture Redo & Gifts
O'Henry's Stitches & Prints
Elm Street Gifts
The Novelty Nook Gift Shoppe
Unique Boutque
Holstrom Jewelers
Fisk Farm & Home
The Pub
Teluwat
Liza & Co.
Cresco Motel
2 Chicks in a Barn
Cresco Bicycles
Cualta Jalisco Family Mexican Restaurant
The Country Thrift Store
Fareway Foods
Cenex
Camp Site RV
H&S Motors
Decorah
B & B on Broadway
Hruska's Canoe Livery & Campground
Good Times Grill
Quality Inn & Suites
Randy's Bluffton Store & Campground
Chimney Rock Campground
Fairfield Inn & Suites
Bluffton Campground
Fisk Farm & Home
Stone Hearth Inn
Day Spring Spa
Casey's General Store (East Hwy. 9)
Country Inn & Suites
Quality Inn & Suites
Super 8 Motel
Decorah Chamber of Commerce
Don Jose Mexican Restaurant
Winneshiek County Tourism
Blue Herron Knittery
Seed Savers Exchange
The Loft on Water Street
Oneota Food Cooperative
Vesterheim Museum
Jane's Amish Furniture
Letter Werks Sign City
Shady Rest Guest House
T-Bocks Bar & Grill
Luther College
Amundson's Clothing
The Good Foot
Kwik Star
Culver's
Winneshiek Wildberry Winery
Hotel Winneshiek
Pinter's Gardens & Pumpkins
Rubaiyat Restaurant
Hauska's Canoe & Livery
Dubuque
Kwik Star (Hoghway 20)
Baymont Inn & Suites
Quality Inn
The Hampton Inn
Fairfield Inn
Best Western Plus
Super 8 Motel
Motel 6
Days Inn
Dyersville
Field of Dreams Movie Site
Dyersville Area Chamber of Commerce
Comfort Inn
Super 8
Casey's
Elgin
Elgin Historical Society Museum
Guppy's on the Go
Elkader
Elkader Opera House/Chamber of Commerce
Carter House Museum
Sinclair Gas Station
Fennelly's Pub
Fast Trak Gas & Groceries
The Elkader Inn Motel
Clayton County Tourism
Turkey River Mall
Elma
Elma Meat Locker
People's Savings Bank
Bridge
Fayette
Boarders Inn and Suites
The Pumper Gas
Fort Atkinson
Lickety Split Convenience Store
Citizens Saving Bank
Lake Meyer Campground
Fredericksburg
All-Stop
Casey's General Store
Froelich
Froelich Museum
Gunder
The Irish Shanty
Guttenberg
Kwik Star
Heaven's Hill Antiques, Collectibles & More
Promise Land Winery
Murray's Outdoor Store
Hawkeye
Gas and Goods
Citizens Savings Bank
Lansing
River View Inn
Visitor Center (Lansing Area)
Lawler
Bucky's Pizza & Subs (Convenience Store)
Lime Springs
Dam Bar
Johnsons Comfort Systems, Inc.
KCD's Restaurant & Bar
Casey's General Store/Travel Plaza
C US Bank
Lime Springs City Hall
Marquette
Effigy Mounds National Monument Park
Cobblestone Inn & Suites
Casino Queen
Casey's General Store
Eagles Landing Winery
Schoolhouse Antique Mall
Barr House
Brooklyn Inn
The Depot & Museum
Frontier Motel
Lady Luck Casino
McGregor
Grumpsters Cabins
Alexander Hotel
Latinos Mexican Restaurant, Bar & Hotel
River Junction
Antiques Upholstery
Crazy Carl's Silver Dollar
By the Spoonful
Kwik Star
Holiday Shores Riverfront Motel
Beer & Bratz Garden Family Restaurant
Little Switzerland Inn
Chamber of Commerce/Tourism Center
Riverview Inn
McGregor Café
Monona
Quillins Quality Foods/Gas
Kwik Star
Casey's General Store
Nashua
Chickasaw County Historical Society
Ye Olde Gift Shoppe
Kwik Star
Casey's General Store
Dairy Treat
Chickasaw County Tourism
Nashua City Hall
The Old Time Shoppe
New Hampton
Super 8 Motel
Kwik Star (Downtown)
Kwik Star (Highway 18)
Casey's General Store
New Horizons Chamber
Osage
AmericInn Hotel & Suites
Super 8
Casey's General Store
Kwik Star
Kountry Kupboard
Main Street Realty
China House
The Front Porch
AJ's Attic Antiques
Osage Chamber of Commerce
Cedar River Complex
Vogue & Vintage
Frames & More
The Stitchery Nook
Teluwat Grille House & Pub
Industry Salon & Boutique
Radioshack
Maxine's on Main
Create
Piggy Back Smoke Shack
Renee's Loving Care Us
Ossian
Casey's General Store
Blooms on Main
Postville
Casey's Downtown
Pines Motel
Protivin
The Place Sports Bar & Grill
Riceville
Andy's Mini Mart
Gansen Auto & RV
Riceville City Hall
Casey's General Store
Ridgeway
Engen Express/Clark Station
Spillvile
Bily Clocks Museum
St. Ansgar
St. Ansgar City Hall
St. Ansgar Chamber of Commerce
Timeless Treasures
Casey's General Store
Home Sweet Home
Waukon
Waukon Visitor Center
Gus & Tony's Pizza Steak House
Stoney Creek Inn
Casey's General Store
Kwik Star
Double D Liquor Store
Empty Nest Winery
Allamakee County EDA
WW Homestead Dairy
West Union
Best Rest Inn
Express BP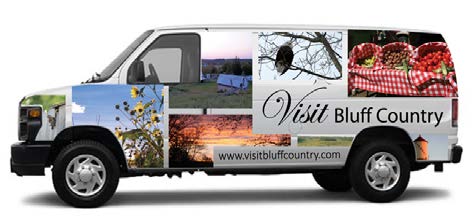 WISCONSIN Distribution Locations
Wisconsin Area Visitor Centers
La Crosse, Wisconsin Convention and Visitor Bureau
Trempealeau County Tourism Council
Wisconsin Department of Tourism
Platteville Tourism Center
Prairie du Chien Tourism Center
Richland Center Tourism Center
Belmont
Quality Inn
Belmont Travel Center
Boscobel
Driftless Lodge Vacation Homes & Cabins
Cuba City
Kwik Trip
Fountain City
Hawks View Winery Tasting Room
Galesville
The Craft Barn
Express Mart
Galesville Municipal
Hazel Green
Citgo Station
La Crosse
Kwik Trip (Rose Street)
La Crosse Visitor Center
Quillin's Grocery
The Company Store
Days Inn
Kwik Trip
Tom Sawyer's Bar & Grill
Super 8 Motel
Quality Inn & Suites
Econo Lodge
Settle Inn
Antique Center
La Crosse Cruises
Visitors Hall of Honor UW-La Crosse
Courtyard Marriot
Radisson Hotel
The Charmant Hotel
AmericInn Riverfront Inn
Hampton Inn & Suites
Country Inn & Suites
Lancaster
Mobil Station
Pine Grove Motel
Mobil Downtown
Kwik Trip (Downtown)
Mineral Point
Kwik Trip
Bp Station
The Traveler's Inn
Quality Inn
Onalaska
Blue Moon Restaurant & Bar
Pepin
Villa Bellezza Winery & Vineyards
Platteville
Jeff's Mini-mart
Hartig Drug
Piggly Wiggly
Platteville Tourism Center
Kwik Trip
Country Inn & Suites
Walgreens
Super 8 Motel
Mound View Inn
Sandberg Retreat
Plattevill Gas
Prairie du Chien
Prairie du Chien Chamber of Commerce
& Regional Tourism Center
Valley Fish
River District
Kwik Trip
Bp Station
Microtel Hotel
Super 8 Motel
Bluff View Inn & Suites
Windsor Place Inn
Bridgeport Inn
Seneca
Greener's Corner
Stoddard
Kwik Trip
Trempealeau
Trempealeau County Tourism Center
Viroqua
Hickory Hill Motel
ILLINOIS Distribution Locations
Galena
Casey's General Store
Ramada Indulge
Country Inn & Suties
Hartig Drug
Stoney Creek Inn
Piggly Wiggly
Fast Stop
Best Western
The Irish Cottage


ROCHESTER CITY LINES
Austin
Bloomington
Byron
Cannon Falls
Chatfield
Chester
Claremont
Dexter
Dodge Center
Dover
Elgin
Eyota
Fountain
Grand Meadow
Hampton
Hayfield
Inver Grove Heights
Kasson
Kellogg
Lake City
LeRoy
Lewiston
Marion
Oak Center
Owatonna
Pine Island
Plainview
Preston
Racine
Reinke's Corners
Spring Valley
St. Charles
Stewartville
Stockton
Utica
Viola
Wabasha
Winona
Zumbro Falls
Zumbrota
Subscribe to the Visit Bluff Country Magazine or Request to become a Distribution Location
[ccf_form id="4296″]