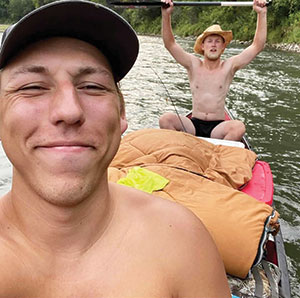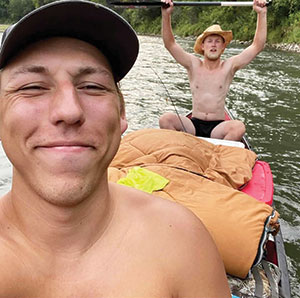 When travelers residing in Southeast Minnesota or Northeast Iowa want to go on an adventure, they don't have to travel far.
Within Historic Bluff Country (a.k.a. The Driftless Region), one element of nature brings so many communities together. The Root River.
Throughout the summer months, locals and tourists will navigate the waterways with canoes, kayaks, and tubes. The river brings people together, near and far.
On occasion, a few courageous individuals will plan for an overnight trip on the Root River.
Over Labor Day weekend of 2020, two young men, both 22 years old, began their journey.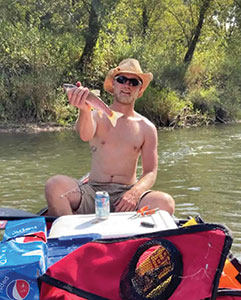 Sam Bahl, residing in Owatonna, Minn., and Matson Kiehne of Harmony, Minn., graduated with the Class of 2016 from Fillmore Central High School.
When talking about how this trip idea came together, Bahl shared, "Ever since we were kids we have always enjoyed trout fishing. We got to talking one night and started talking about doing an overnight canoe trip. Then we decided how cool would it be if we canoed from Forestville to Rushford. A trip across the county that we grew up in!"
Their mode of transportation was a canoe measuring 18 feet and three inches in length. They packed for all possible scenarios.
Two sleeping bags
A tent
Fire starters and kindling
Two lawn chairs
Two poles and a tackle box
One drink cooler, one ice cooler, and one food cooler.
Pots, pans, silverware, plates, etc.
Flashlight
Trash bags
First aid kid
Two hatchets
Watertight containers for our phones
Steaks, canned potatoes and beans, burgers, snack food
Two cases of water
Paper towels and toilet paper
Filet for trout
Multi-purpose tool
Watertight totes to keep things dry (worked great)
Bug spray and sunscreen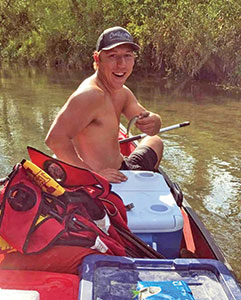 All loaded up and ready to paddle, they began their adventure.
"We got in the water at 8 a.m. on Saturday, September 5. Got to camp at 6 p.m. Sunday the 6th, we got back in the water at 9 a.m. and got to camp at 6 p.m. Monday the 7th, we got in at 7:30 a.m. and got out of the water at our destination at 11 a.m.," shared Bahl.
It's what happened between 8 a.m. on Saturday, September 5, and Monday, September 7, at 11 a.m., that will be memorable.
Bahl, a life-long angler who grew up in Preston, Minn., said, "Fishing was slow to start, but once we got to the Preston area, we smoked 'em! Preston was by far the best fishing we had the entire time. Roughly, 15 fish the first day!"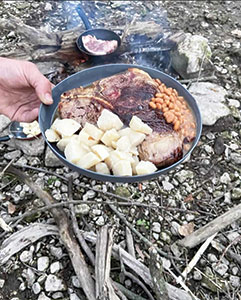 In between catching fish, they enjoyed some adult beverages, talked about life, and stopped to skip some rocks. They also enjoyed chatting others on the river – tubers, canoers, and fly fisherman.
At night, they relaxed by the fire. One night, they set up their tent on an island in the middle of the river. That night, there was a downpour of three inches of rain, hail and a lightning storm. "We woke up and our island we had spent the night on became much smaller. Good thing we went to the high side of the island," offered Bahl.
During their days on the river, they did encounter some obstacles.
"Shallow water made it difficult from Forestville to Preston, due to low water this year. So we had to get out and push multiple times, because our canoe was around 700 pounds with everything loaded, including ourselves. Big rocks near Lanesboro almost made us tip a few times. Portaging around the Lanesboro Dam was definitely a workout, but very rewarding. Near Whalan, we had to maneuver around multiple trees. In Lanesboro, we hit a large rock and we noticed our canoe was starting to leak. Before we knew it, water was up to our ankles in the canoe. We pulled over and noticed there was a small slit in the front of the canoe. We called a friend, Cody Ristau, to get us some underwater sealant. We patched it and we were on our way," explained Bahl.
As Sam and Matson talk about this trip for many years to come, they will surely recall their brushes with wildlife.
They followed an eagle for about a mile down the river as it flew from tree to tree. And, while tailing this predator, they witnessed the eagle swoop down and grab a trout about 100 yards in front of them. They also saw a really nice eight point buck in the middle of the river. A few turkeys, lots of geese and plenty of jumping trout. At night, they were surrounded by the sounds of coyotes howling in the nearby woods – echoing off of the bluffs in multiplicity.
In the morning, they awoke to a jaw-dropping sunrise over the bluffs, while they stood 10 feet from the river cooking their eggs and bacon over their campfire.
They certainly didn't starve along the way. With their bounty of freshly-hooked trout, they enjoyed filets cooked on the fire while they listened to the sounds of the Root River's rapids flow by their campsite.
They did have suggestions for anyone attempting to make this same trip.
If they did it again, they'd bring some sealer to patch their 20-year-old canoe. They'd bring coolers with wheels to help portage to the campsite. And, chairs with a backrest to sit on in the canoe would be a must.
Bahl concluded, "Be prepared for the work. It was extremely rewarding and we will definitely do this again, but it was a lot of work from sunup to sundown!"
Kiehne and Bahl are currently planning a five-day trip up in the Boundary Waters. They are also planning a trip on the North Branch of the Root River, with hopes of making their way to Houston, Minn.
Bahl and Kiehne shared that after their trip they were "talking about how we really take for granted how beautiful Bluff Country really is, and how amazing it is. Especially by canoe!"