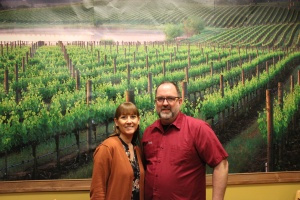 By Jason Sethre
There are not many places where you feel like you're in a fancy restaurant and an art gallery, all at the same time.
That's the best way to describe Rubaiyat in downtown Decorah, Iowa.  This special place has been the vision of Andy and Kim Bonnet since 2007.
Andy and Kim met while working at a restaurant in Galena, Ill.  Andy gained experience in the food and beverage industry starting at the age of 14, working with retail wine sales along with grocery, and then as a chef and server.  Kim, who grew up in Dubuque, Iowa, graduated from Luther College in 2002, and worked in the financial world for six years.  But she has also been working in the food and beverage industry since age 14, as a server, bartender and caterer.
Building A Vision
The historic building located at 117 Water Street in downtown Decorah, has been home to many entrepreneurial experiences since the early 1890s.
"The original stores housed everything from a mail order dry goods store to a ladies ready-to-wear boutique.  In the early to mid 1900s, the buildings housed a jewelry store, a hardware store, and the original Donlon Drug.  The upstairs was also used as a speak-easy during prohibition.  In the early 1950s, Bill Brickley opened a five and dime store.  He sold out in 1960 to Ben Franklin Stores and the buildings were combined into what you see now as one storefront.  After the Ben Franklin closed in the early 1990s, the building housed an office supply store, antique store, and a dollar store," according to the owners of Rubaiyat, Andy and Kim Bonnet, who have owned the building since 2007.
At first, they thought the building would be too big, but as they started planning, they knew it was the right one for them. When they purchased the building, it needed lots of work. The restaurant was renovated in 2007, and took about nine months. They worked on the building renovation with family and friends, and in July 2007 they turned it over to contractors. In 2016, they renovated the second floor (which had no plumbing or electrical) and moved there with their family that same year. That renovation took about seven months.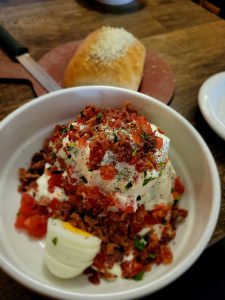 The name of the restaurant, Rubaiyat, was derived from a collection of poetry written over 1,000 years ago by a Persian gentleman named Omar Khayyam.  As it states on their restaurant website, "The poems are a testimony of living life to its fullest with the help of good food and great wine and together, the joy that they can bring to life. Andy and Kim welcome the chance to share their love of food and wine with you and invite you to experience that joy right here at our restaurant in downtown Decorah."
The Bonnets
The Bonnets love everything Decorah has to offer. While raising their two sons, ages 13 and 10, they enjoy spending time as a family, traveling and camping whenever they have free time.
How did they pick Decorah?  What makes Decorah special?
"Decorah is a mythical place. There is something special about Decorah that exists in very few other locations," said Kim.  With Kim's Luther College experience, she always wanted to move back and raise a family here. "The sense of community is second to none," she added.
Ambiance & Food
When you dine at a restaurant, authenticity is important.  What sets this place apart from others?
The right ambiance, food and service will always make you want to come back for more.  And, you'll tell your friends about it.
That's Rubaiyat.
While Kim leads the front-end of the restaurant, Andy creates masterpieces in the kitchen.
As indicated on their website, Chef Andy's menu is inspired to reflect classic and diverse culinary influences.  He is consistently creating food that is distinctly contemporary.  Their seasonal American dishes combine four qualities that the Bonnets value most: integrity, style, restraint, and playfulness.
And, they always deliver as promised.
They spend a great amount of time focused on aesthetics.  "We both work on this together, and bring our ideas inspired by restaurants and spaces we have visited in California," shared Kim.
They want their restaurant to be known for great food, great service, a place to gather and enjoy special occasions and celebrate the everyday. And, of course, friendship.
And, what they are doing is working quite well.  According to Kim, "On an average night, we draw from about a 60 to 70 mile radius, but we do have people here every week from further than that.  Major metros, Midwest cities, and both coasts."
If you want to impress someone without breaking the bank, take them to Rubaiyat.
But, I'd suggest always making a reservation.  During the summer months, they have been known to get fully booked a week in advance.
Their website is https://www.rubaiyatrestaurant.com/ and their phone number is (563) 382-9463.