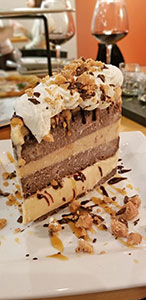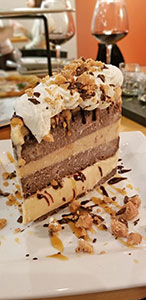 This past weekend, a collection of relatives gathered at Four Daughters Vineyard and Winery, just outside of Spring Valley, Minn.
We celebrated Randy Reiter's 50th birthday, a little earlier than usual, because the weather was perfect. This is my wife's brother.
We selected Four Daughters Vineyard and Winery because we've all agreed that they serve one of the best wood-fired pizzas this side of the Mississippi River.
Our families enjoyed two pizzas on this beautiful Saturday: pepperoni and corn on the cob, and prosciutto and asparagus. It was a tough call on which one was the best. With either choice, we didn't have much left over for the ride home.
Of course, Four Daughters is known for their award-winning wines, which is what gets us in the door. But, their desserts truly take the cake.
It's best to always save room for dessert, right?!
Caramel Macchiato Cake. The menu describes it as follows, "Layers of caramel ice cream, Four Daughters Pinot Noir chocolate cake, espresso gelato, and our kitchen's special toffee. All topped with house-made salted caramel, fudge, and whipped cream."
It was a team effort. Collectively, it can take five or six people to eat this one gigantic mountain of deliciousness.
Highly recommended.
It was a perfect day to sit outside and watch the wedding-goers prepare for the main event between the vines.
Four Daughters hosts quite a number of weddings year-round. They have an incredible facility with the backdrop of a picture-perfect six acre vineyard that offers a priceless view.
For fans of the winery, they also offer a subscription-based wine club membership opportunity. With that program, subscribers can either pick up the quarterly wine packages at Four Daughters, or have them delivered to their home.
Blue skies, wine, pizza, dessert, and conversation with family made for a wonderful day full of memorie.
Owners Gary and Vicky Vogt, along with their four daughters, provide the right combination of food, service, and ambiance.
It's all about creating memorable experiences.