By Charlene Corson Selbee
Do memories of fishing as a child swirl in your head? Have you wanted to learn to fish and did not know where to begin?
You may not be familiar with Bluff Country.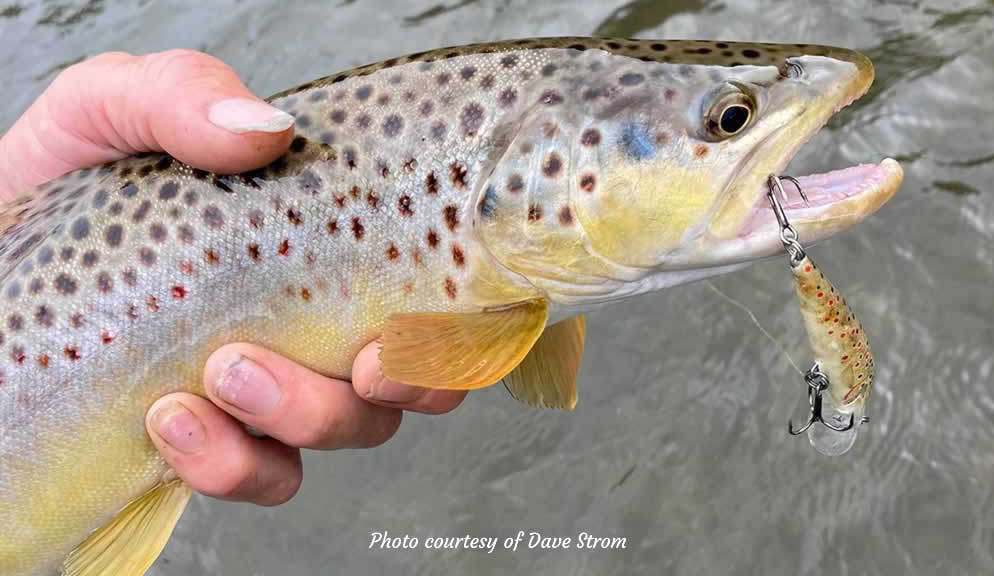 The scenic Bluff Country region of southeast Minnesota and northeast Iowa offers hundreds of miles of streams of quality trout fishing. In addition, the natural cold streams make for a healthy habitat where trout can thrive.
People come to this region to fish for brown, brook, and rainbow trout. Most fish caught in this area are rainbow trout. Experienced fishers come to this region angling for brook trout, which are native to Minnesota and Iowa.
"Stop into Root River Rod Co. to talk with us. We can answer your questions. We also carry the DNR map and regulation books. We sell all flies and lures for the non-fly fisher," shared Lance Prado, owner of Root River Rod Co. "Fillmore County boasts the best trout fishing in southeast Minnesota. In the Root River, you can fish for trout, smallmouth bass, pike, and walleye. We do not sell licenses here, but they are easy to purchase online or at the BP gas station in town."
Owner and fishing guide, Lance Prado, Root River Rod Co., Lanesboro, fly fishing the trout rich Root River.
Photo courtesy of Lanesboro Chamber of Commerce
Don't forget your fishing license
Minnesota DNR reminds residents and visitors to only buy fishing licenses either through the Minnesota DNR website, calling (888) 665-4236, or from a state-approved vendor. DNR has a list of approved vendors by county available on its website. There are 12 locations in Fillmore County and nine in Houston County.
The Iowa DNR website also lists the state's approved vendors. For example, there are 13 vendors in Winneshiek County.
Include a stop at Driftless Fly Fishing Co. in Preston and talk with owner Mel Hayner for information, tips, and directions. Hayner proudly boasts, "We can help you catch trout in SE Minnesota!" If visitors are wondering what the current conditions are, Hayner offers a fishing hotline, (507) 327-4276, every other Saturday during the fishing season, and he provides free fly-fishing classes. Driftless Fly Fishing Co. guides are Orvis endorsed guides.
Trout fishing for all ages, abilities and skill from Sylvan Park fishing dock in Lanesboro, Minn.
Photo courtesy of Lanesboro Chamber of Commerce.
Root River Rod Co., a full-service fly shop in Lanesboro, offers full and half day guided drift boat and guided wade trips.
Serious fishers recommend reading Trout Streams of Wisconsin and Minnesota by Jim Humphrey and Bill Shogren in addition to the Minnesota and Iowa DNR regulation books. The book contains everything you need to know, and it names specific creeks and streams, plus the book includes maps.
In memory of Steve Sobieniak
Steve Sobieniak, a nationally known maker of bamboo fly fishing rods and owner of Root River Rod Co., a full-service fly shop in Lanesboro, Minn., died September 22, 2022, after a year-long battle with cancer.   
Throughout his 67 years, he was recognized as an artisan carpenter in the Twin Cities which combined with his love of fly fishing that he learned from his father as a young boy, paved the road to becaming a master bamboo fly fishing rod craftsman.                
In 2017, after leaving the construction industry to make rods full time, he and his wife Vicki opened Root River Rod Co in historic Lanesboro. The store is now owned and operated by his daughter Alayna and son-in-law Lance Prado.     
His knowledge of the trout fishing in Southeast Minnesota as well as his deep knowledge of fly-fishing history is a loss felt throughout the area and the wider fly-fishing community. Steve often was the smiling face greeting anglers as they walked into the fly shop. He was known for his kindness, generosity, integrity, and support for trout stream conservation. From diagnosis to the very end, Steve traveled his path with complete strength, courage, and an amazingly positive attitude.               
Steve loved the Root River and being a part of the Lanesboro community. There will be a Root River cleanup this summer in Steve's honor.