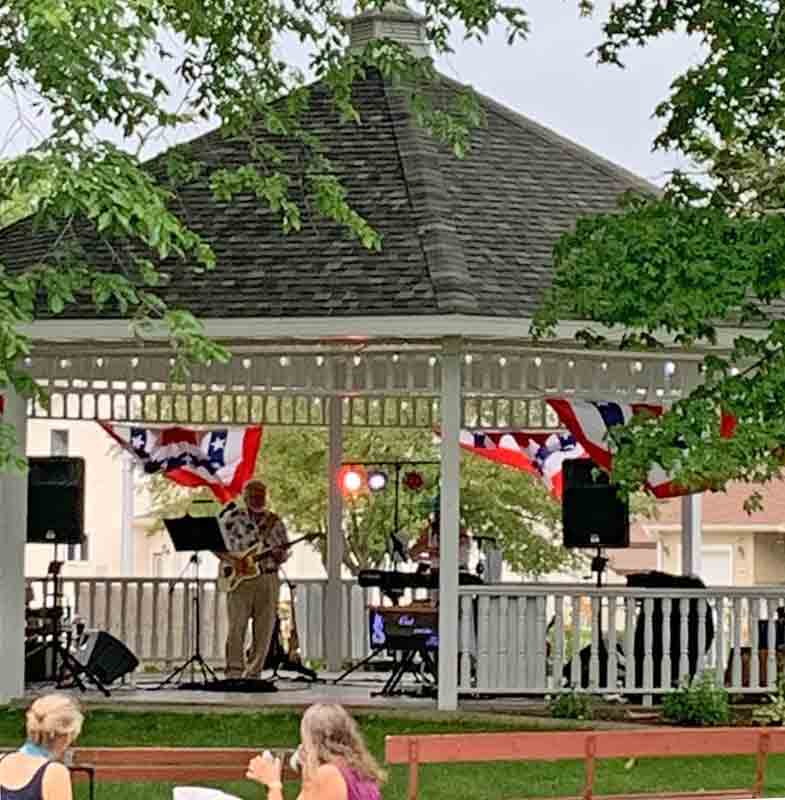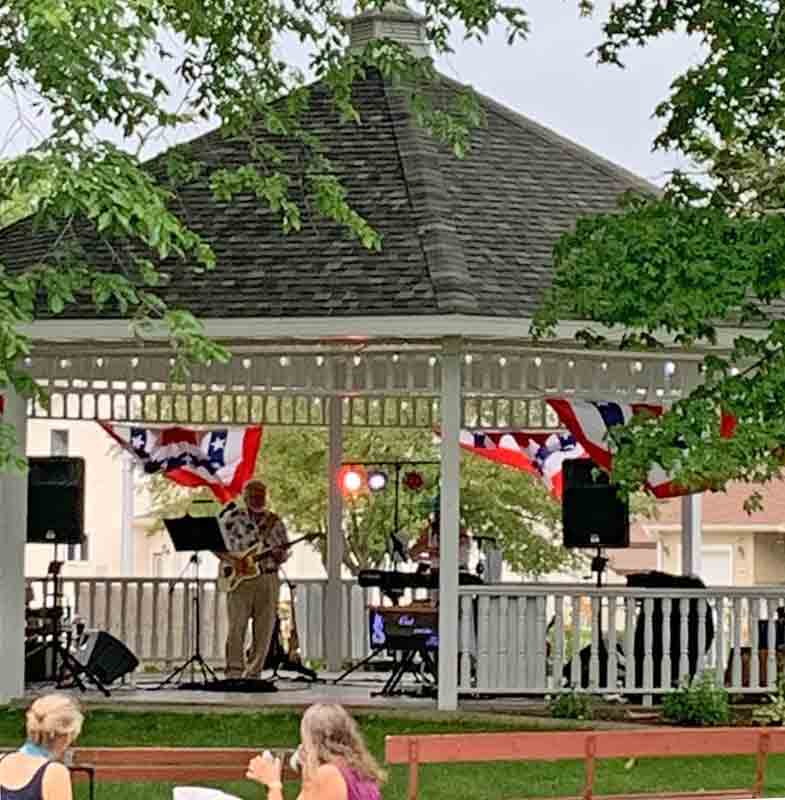 By Charlene Corson Selbee
Kick off the Fourth of July weekend at one of the many outdoor music concerts scheduled in Bluff County this summer. 
Community Spirit Caledonia, a community-driven group of volunteers, is hosting the annual Music in the Park series. The four outdoor music concerts are held at the Gazebo Park, within walking distance of downtown Caledonia, Minn. In case of inclement weather, head to the city auditorium.
Reserve Tuesday, June 27, July 11, 18, and the 25 from 6–7:30 p.m. on your calendar. Organizer Dana Gunn mentioned that every night at 5:30 p.m., a picnic dinner is available for $6, adding that different groups in the community prepare the dinners as a fundraiser. There are also root beer floats and popcorn for sale.
"It's a nice way to spend a summer evening. There is a variety of music over the five weeks, something for everyone! It's a free, family-friendly event," emphasized Gunn.
Bands scheduled for your enjoyment include the Buck Hollow Band, The Executives, Dan Van, and the Barbershop Quartet (Thick N' Thin – male quartet and A Note Above – female quartet). 
On Thursday, July 13, and August 10, head to Preston, Minn., for Rhythm by the River from 6-8 p.m., to hear the soul-resonating sounds of River Crossing and Root River Jam, respectively. 
A favorite lawn chair nights music series takes place throughout the summer on Thursday nights at either the courthouse square or downtown on Washington Street in Decorah, Iowa. Bands scheduled to perform include Decorah Municipal Band, Michael McGrath, Kristen Ford, Nordic Dancers, Ronley King Blues Band, Clare Doyle, Jake Manders & Gretta Hunstiger, Buck Hollow Band, and Holding Hemlock.
Spring Grove Chamber of Commerce is hosting the 2023 Music & Market events on Wednesday evenings in Viking Memorial Park from 4–7 p.m., with the music starting at 5 p.m.
The City of Harmony Arts Board is hosting the 2023 Back Alley Jam Series. The next concert is on July 20, featuring The Paper Clips. The concerts are held from 6-8 p.m. in the alley behind Harmony Spirits in downtown Harmony, Minn. Food and beverages are available  for purchase from local restaurants.
The Root River in Lanesboro is the perfect setting for Rhythms on the Root. Saturday, July 8, features Sleeping Jesus and on Saturday, August 12, is singer-songwriter Faith Boblett. Concerts begin at 6 p.m.
Concertgoers should bring their lawn chairs.
Upcoming events in Bluff County
• Through July 30, Great River Shakespeare Festival, Winona, Minn.
• June 30-July 4, Riverfest, La Crosse, Wis.
• July 2-4, July 4th Celebration, Harmony, Minn.
• 4th of July Celebration, Charles City, Iowa
The Visit Bluff Country Magazine is delivered to more than 1,000 locations in 35 counties in Iowa, Illinois, Minnesota, and Wisconsin. This magazine has a mission of promoting tourism in the Historic Bluff Country (Driftless) region.
For information on upcoming town festivals and events in Historic Bluff Country, vacation ideas for lodging, recreation, dining, and shopping, check out the magazine in print or online at www.visitbluffcountry.com.