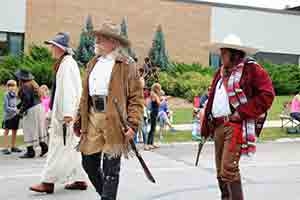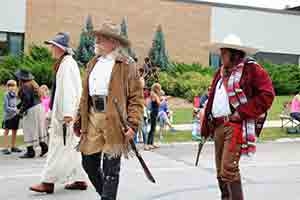 By Charlene Corson Selbee
Join the community of Lanesboro, Minn. at the 39th Annual Buffalo Bill Days, August 3 through the 6.
Family movie night kicks off the four-day event. The Disney movie "Encanto" will start at 8:30 p.m. in scenic Sylvan Park.
New this year, a dunk tank! On Saturday, August 5, from 12-2 p.m., take aim at the Lanesboro Fire Department, from 2-4 p.m. teachers will be waiting in line to get soaked, and from 4-6 p.m. it will be the coaches turn. On Sunday, August 6, from 12-2 p.m., high school students will be taking the "hot" seat and from 4-6 p.m. community officials will be joining in on the fun.
Chairperson Kristen Asleson shared that the influx of softball teams has picked up. You do not want to miss the men's softball tournament this year.
Asleson also mentioned that anything you want fried you will be able to get. Check out Stumpy's Concessions for pizza, fries, strips, corn dogs, fried pickles, etc.; Charlie's Concessions is serving cheese curds, onion rings, corn dogs, and drinks; Abby's menu includes sandwiches, fried food, and drinks; L & L Kebab House has gyro sandwiches; Big Dog Concessions is serving everything fried; The Snack Shack has mini donuts, cotton candy, nachos, pretzels with cheese, slushies, and drinks; and Fillmore County American Dairy Association is serving soft serve ice cream.
Fillmore County Cattlemen will be serving up their famously delicious steak dinner, supporting the Lanesboro EMS on Friday, August 4. 
Dance in the street to Blue Ringers, a pop, rock, and country band, on Friday night from 8:30 p.m. to 12:30 a.m. Next 2 Nothing will be rocking the beverage and brat tent from 8 p.m. to 12 a.m. on Saturday.
Other popular events include the car cruise in at the community center, beverage and brat tent, farmers market, live music, bingo, co-ed volleyball tournament, and men's softball tournament, Buffalo Roam 5K and one-mile run, golf tournament, Grand Parade, and fireworks at dusk on Saturday night, and duck races.
Buffalo Bill Days apparel (t-shirts and hats) is available at the city office.
Organizers remind visitors and residents to shop locally. The stores are open all day.
Other Bluff Country events happening this weekend:
• August, HARC Art Month, Houston, Minn.
• August 4-5, Wapsi Days Festival, Riceville, Iowa
The Visit Bluff Country Magazine is delivered to more than 1,000 locations in 35 counties in Iowa, Illinois, Minnesota, and Wisconsin.  This magazine has a mission of promoting tourism in the Historic Bluff Country (Driftless) region.
For information on upcoming town festival and events in Historic Bluff Country, vacation ideas for lodging, recreation, dining and shopping, check out the magazine in print or online at www.visitbluffcountry.com.