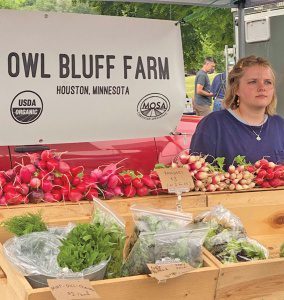 By Charlene Corson Selbee
Fresh, nutritious, and delicious tasting veggies are now in season! Shoppers will now find a large selection of veggies. In addition to veggies, shoppers will find a selection of jams, pickles, mushrooms, jerky, fish, beef, wine, flowers, homemade pie and bread, handmade dog treats, baby ducks and chicks, handcrafted items like potholders and scrubbers and dish towels, clothing, and art. The items sold vary at each market.
Try a new vegetable whenever you visit your favorite farmers market. Not sure how to cook all the new veggies you are finding? Start with tender kale and make crunchy chips (425° oven, olive oil, and sea salt for 15 minutes). Your kids will love them!
  Farmers markets are also perfect for socializing, relaxing, and enjoying live music. 
  Some farmers market accepts SNAP (Supplemental Nutrition Assistance Program) and offers market bucks, a program that doubles SNAP-EBT purchases up to $10 at participating locations.
  Markets are typically open from May to October.
Tuesday
• La Crescent Farmers Market, 595 Veterans Parkway, La Crescent from 4-7 p.m.
• Rushford Peterson Valley Farmers Market, 109 N. Mill St., Rushford from 4-6:30 p.m.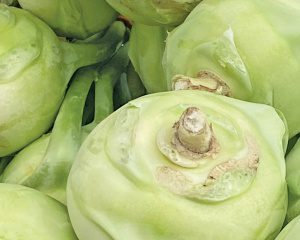 Wednesday
• Spring Grove Farmers Market, 107 Maple Dr., Spring Grove from 4–7 p.m.
Thursday
• Chatfield Growers and Makers Market, 305 Main St. S., Chatfield from 3–6 p.m.
Saturday
• Decorah Farmers Market, 300 block of Heivly St., Decorah from 9-11 a.m.
• Caledonia Farmers Market, parking lot behind the Crooked Quarter, Caledonia from 9 a.m.-1 p.m.
• Simple Living Farmer's Market, 501 E. Prairie Ave., Mabel from 8:30–11:30 a.m.
• Lanesboro Farmers Market, 202 Parkway Ave S, Lanesboro) from 9 a.m. – 12 p.m.
• Preston Pop-Up Market, Fillmore Street SE by the courthouse, Preston on August 12 and September 16, from 10 a.m. – 2 p.m.
Upcoming events in
Bluff County
• July 11-15, Winneshiek County Fair, Decorah, Iowa
• July 13, Rhythm by the River, Preston, Minn.
• July 13-16, Rushford Days, Rushford, Minn.
• July 14-16, SummerFest, LeRoy, Minn.
• July 14-16, Root River Antique Engine & Tractor Show, Spring Valley, Minn.
• July 15, Rail Fair, La Crosse, Wis.
• July 15, Spring Creek MX Pro National, Millville, Minn.
• July 15, Southwest Music Festival, Platteville, Wis.
• July 15-16, War of 1812: Battle of Prairie du Chien Re-enactment, Prairie du Chien, Wis.
• July 16, Music in the Bandshell, Peterson, Minn.
The Visit Bluff Country Magazine is delivered to more than 1,000 locations in 35 counties in Iowa, Illinois, Minnesota, and Wisconsin. This magazine has a mission of promoting tourism in the Historic Bluff Country (Driftless) region.   
For information on upcoming town festivals and events in Historic Bluff Country, vacation ideas for lodging, recreation, dining, and shopping, check out the magazine in print or online at www.visitbluffcountry.com.