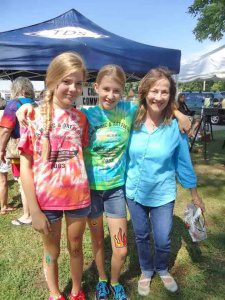 By Charlene Corson Selbee
Looking for something to do Labor Day weekend on the banks of the Mississippi River? If so, check out the 20th Annual Alma Music & Arts Festival at the Alma Beach and Recreation Area in Alma, Wis. The fun kicks off on Sunday, September 3 at 11 a.m. Thanks to community sponsors and volunteers the event is free.
Event organizers promote the festivities as, "A day of art, food, and fine music showcasing the natural beauty of the river and bluffs."
The names of the bands will entice attendees to the town's last celebration of the summer. Patchouli takes the stage from noon to 1:30 p.m., followed by The High 48s from 1:30– 3 p.m. Four Pints will have attendees swaying from 3-4:30 p.m., and Left Wing Bourbon ends the day on a high note from 4:30-7 p.m.
Four familiar food trucks will make a welcomed appearance at the festivities again this year, including Two Scoops & a Bar, River Road Coffee, Rubio's Family Mexican Restaurant, and Smoke-in D's BBQ.
According to the festival website there will be "vendors featuring pastels, handweaving, fall and winter décor, photocards, prints, purses, pottery, silver and jewelry, glass art, walking sticks, candles, face painting, and much much more!"
What's happening in Bluff County this week
• September 7-10, Hesper-Mabel Steam Engine Days, Mabel, Minn.
• September 8-10, Dairy Days, Platteville, Wis.
• September 8-10, Watermelon Fest, Kellogg, Minn.
• September 9 and 10, Laura Ingalls Wilder Days, Pepin, Wis.
• September 9, SeptOberfest, Wabasha, Minn.
The Visit Bluff Country Magazine is delivered to more than 1,000 locations in 35 counties in Iowa, Illinois, Minnesota, and Wisconsin.  This magazine has a mission of promoting tourism in the Historic Bluff Country (Driftless) region.
For information on upcoming town festival and events in Historic Bluff Country, vacation ideas for lodging, recreation, dining and shopping, check out the magazine in print or online at www.visitbluffcountry.com.