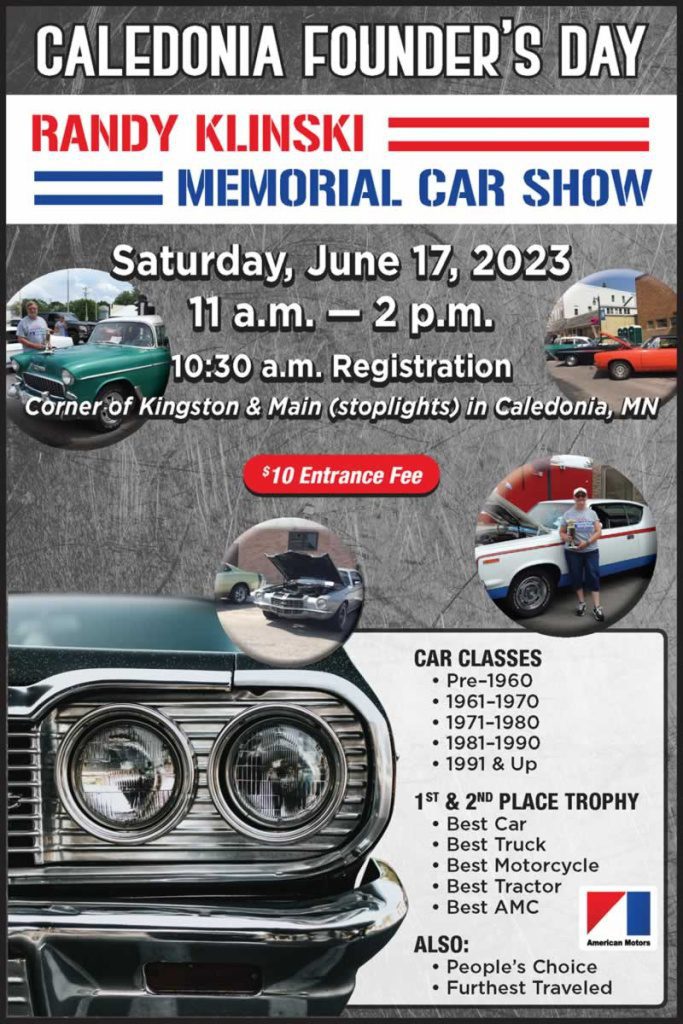 Father's Day Cruise for a Cause
This upcoming Father's Day is going to be extra special.
Dads like cars, and dads like helping people.
So, why not have an event that gets fathers out on the roadways of scenic bluff country, and raise some money for an important cause along the way?
On Sunday, June 18, 2023, Visit Bluff Country Magazine will be hosting the first-ever "Father's Day Cruise for a Cause."
With the help of Kevin Jacobsen and Julie Augedahl, both of Caledonia, Minn., working in conjunction with the team at Visit Bluff Country Magazine, they have put together a weekend that should make any car enthusiast excited.
Kevin Jacobsen has been organizing the Caledonia Founder's Day Randy Klinski Memorial Car Show for nine years, which will be held from 11 a.m. to 2 p.m. in downtown Caledonia, Minn., on Saturday, June 17, 2023. Look for more information about the entire Caledonia Founder's Day schedule in future issues of the Fillmore County Journal.
So, Saturday will be a great day to check out classic cars, muscle cars, and sports cars at the car show. Then, Sunday will be a day to take to the road for the car cruise.
This year's fundraising event will be dedicated to Kendall Hammell of Chatfield, Minn., who is battling leukemia. Donations to Kendall can be made directly to an account at Root River State Bank in Chatfield, Minn. Donations will also be accepted the day of the car cruise.
Participants are suggested to gather in downtown Caledonia on Main Street starting at 10 a.m. There will be hot pink and light blue balloons, Kendall's favorite colors, set up at a registration table on the sidewalk where participants can check in and pick up a brochure for the car cruise.
The cruise will start at 11 a.m. in Caledonia, traveling to Houston, Rushford, Lanesboro, Harmony, Preston, back through Lanesboro, up to Fountain, and finishing up in Chatfield. Along the way, cruisers will want to check out places to grab lunch or ice cream, while stopping to check out the variety of unique cars participating in the event. There will be planned stops in Rushford, Harmony, Preston, and Chatfield, but cruisers may want to stop in towns along the route. There are so many great places to experience in Historic Bluff Country, this one-day car cruise is merely a glimpse of the possibilities.
The route will take travelers through the charming small towns nestled in the valleys of bluff country, winding along the roads that following the Root River. Eagles and deer will likely be watching car enthusiasts in their natural habitat (roadways). Highlights of the route will include "roller coaster hill" on County 12 and a tour through the Minnesota State Veterans Cemetery in Preston, Minn. Turns along the route will be flagged with hot pink and light blue balloons.
The event is anticipated to conclude around 4 p.m. in Chatfield, Minn.
Pre-registration is suggested for both the car show and car cruise, so event coordinators can be more prepared. Register by submitting the following form. Questions can be directed to info@visitbluffcountry.com or (507) 765-2151.
2023 Cruise Map
Register for the Car Show and/or Cruise