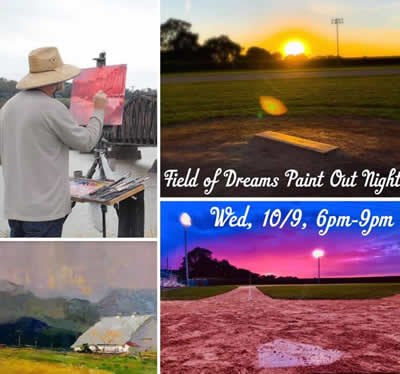 When:
2019-10-09T00:00:00-05:00
2019-10-10T00:00:00-05:00
Location: Field of Dreams Movie Site
Time: 6:00pm – 8:00pm
Sixty plein air (in open air) artists from 14 states will paint Dubuque scenes Sunday, Oct. 6 – Saturday, Oct. 12, 2019, and THEY'RE COMING TO PAINT THE FIELD OF DREAMS Wednesday evening, October 9 from 6pm-8pm!
Come to the Field for this FREE event and watch true artists at work at our corner of fantasy and reality while enjoying live music and food from a local vendor. Don't forget to bring your glove and ball for a game of catch under the lights. And who knows, you may see some Ghosts make their way out of the corn!