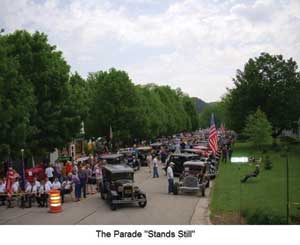 The third weekend in May is fast approaching and that means it's time to mark your calendars for the annual Whalan Stand Still Parade. This year you are invited to come "Wheeling Through Whalan" on Saturday, May 19. The festivities begin at 10 a.m. and conclude at 3 p.m. Of course, the highlight of the day is when the parade stands still from 11 a.m. until 12 noon. Walking around the parade allows you to get up close and personal with the parade units. Take time to look at the cars, tractors, floats, and other performers and visit with the participants. The 2018 Stand Still Parade grand marshal is Mike McKinley. Mike has been a faithful supporter and contributor to the success of the Stand Still Parade for the past several years. You will be able to find him at the start of the parade behind the American Legion color guard. Be sure to stop and say hello.
It's not all about the parade. There will be great entertainment throughout the day. From 10-11 a.m., The RavensFire Band will be performing traditional Irish, Scottish, Folk, and Americana music on the main stage. Also from 10-11 a.m., just down the street from the main stage, enjoy the music of Wellespring — Anna Lee Roberts, a "cellist, vocalist, music therapist and explorer of all stringed instruments." The Lanesboro High School band will keep everyone energized with a variety of music during the parade. From noon to 3 p.m., The Rutabaga Brothers will entertain with toe-tapping R&B music on the main stage.
Don't forget about the great food that is available all day. There is something for everyone! Purchase your tickets and enjoy Egg McWhalans, hot dogs, brats, hot turkey sandwiches, popcorn, pop, water, and fruit. For those with a sweet tooth, tasty desserts and ice cream treats will be available. If you are looking for a Norwegian delicacy (and who isn't?), give the lefse and rommegrot a try.
Many other activities are taking place throughout the day. Stop by the artisans and vendors at their booths along the trail. Visit the tent housing the Basket Raffle and pick a basket that you would like a chance to win. Try the "Duck Pluck." You may be a lucky duck and win a cash prize. Kids of all ages will enjoy the petting zoo. Are you interested in a friendly competition? Consider signing up to take part in the bed races.
Come "Wheeling Through Whalan" — by car, bicycle, motorcycle, truck, in-line skates, scooter, or even on foot—on May 19, 2018, to enjoy a full day of family fun!
Visit the website for more information: www.standstillparade.org.